Saturday, November 7, 2015
Hi guys! Today at Wholly Books we would like to welcome Kate Brauning who is here to talk about the release of her debut novel,
How We Fall
.
Hello, readers! I'm so happy to be here at Wholly Books on the blog tour for the paperback release of my YA contemporary romance. You can read the first chapter and enter the international Goodreads giveaway below, and right after that, I'm talking about food in fiction, and the ways it can add to story. (You like fudge sauce, right?)
About the Book:
Ever since Jackie moved to her uncle's sleepy farming town, she's been flirting way too much--and with her own cousin, Marcus.

Her friendship with him has turned into something she can't control, and he's the reason Jackie lost track of her best friend, Ellie, who left for...no one knows where. Now Ellie has been missing for months, and the police, fearing the worst, are searching for her body. Swamped with guilt and the knowledge that acting on her love for Marcus would tear their families apart, Jackie pushes her cousin away. The plan is to fall out of love, and, just as she hoped he would, Marcus falls for the new girl in town. But something isn't right about this stranger, and Jackie's suspicions about the new girl's secrets only drive the wedge deeper between Jackie and Marcus.

Then Marcus is forced to pay the price for someone else's lies as the mystery around Ellie's disappearance starts to become horribly clear. Jackie has to face terrible choices. Can she leave her first love behind, and can she go on living with the fact that she failed her best friend?

2015 Silver Falchion Best YA Novel finalist- Killer Nashville
Kirkus Reviews: "Debut novelist Brauning tells a touching story of young, star-crossed lovers caught in a drama they have tried hard to avoid.... A sweetly written mix of mystery and romantic turmoil."
School Library Journal: "Heartbreaking and well-paced, this mystery novel challenges readers to look past preconceptions and get to the know characters, rather than focus on an uncomfortable taboo. Brauning's characters are well developed and their story engrossing. An intriguing thriller... this title will raise eyebrows and capture the interest of teens."
ALA Booklist: "…an unusual combination of romance and suspense…There is also something universal about Jackie's struggles with her feelings and her desires, and readers will identify with her emotions, while going along for the plot's ride. This quest for identity, wrapped up in an intriguing mystery, hooks from the beginning."


How We Fall is available through:
Read Chapter 1!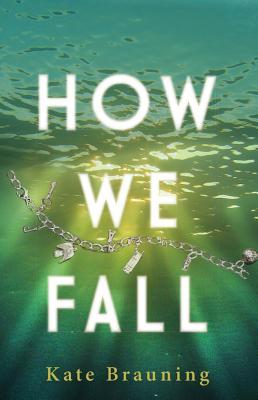 Enter Giveaway
Now about that chocolate:
Food in books is always something that catches my eye. The kinds of foods people eat (homemade goods? Organic only? Southern comfort foods, regular take-out from their favorite places?) show so much about someone's personality and lifestyle that I love to see it as an influence in fiction. For example, Luke's diner, Friday night dinners, and Rory and Lorelai's food habits add so many layers to
Gilmore Girls
. The girls hardly ever cook, and much of their food is pre-made or comfort food, which fits their focused, harried, fun-loving lifestyle. And most of the time, food equals community to them-- eating at Luke's, Sookie cooking at the inn, food at town festivals, or movie nights with each other at home. Dinners at Emily and Richard's home are a completely opposite experience, a contrast that shows both Emily and Richard's personalities and the strained family relationships. Food can even set tone and world-build: think of
Harry Potter
's Christmas feasts, Bertie Bott's Every Flavour Beans, chocolate frogs, cauldron cakes, butterbeer, and flaming Christmas puddings.
Food was always a bit of a struggle in my family, given my dad's allergy to corn and corn products. I spent a lot of time in the kitchen as a teenager, making homemade bread, biscuits, sauces, soup, desserts, and anything else that contained dextrose or maltodextrin if bought pre-made. Time in the kitchen to me meant time with my mom, or with my sisters, or even my brother-- he can cook just as well as any of us girls can. Cooking means home to me, and so it naturally finds its way into my writing. Especially since food and time in the kitchen fit the big, combined family and produce farm in
How We Fall
, this fudge sauce (and a lot of other food) worked its way into the story.
The fudge sauce that Marcus makes for the picnic ice cream sundaes in
How We Fall
is a family recipe I've been making since I was about twelve. It's strong and dark, and one of my favorite things to make for guests-- it's great over berries and ice cream, or drizzled over a piece of cake with coffee, or even stirred into milk to make chocolate milk. My mother and I used to make baskets of everything chocolate (fudge candy, chocolate-dipped pretzels, hot chocolate mix, etc) for friends' birthdays, and we always included a jar of this fudge sauce. There's always a use for it! (You can also check out the post with Marcus's hot chocolate recipe over at
the Quality Fangirls blog
!)
Kate's Fudge Sauce:
1 can evaporated milk (14.5 oz)
2 cups white sugar
4 squares unsweetened dark baking chocolate
(or substitute 3/4 cup dark cocoa powder + 1.4 cup butter)
1.5 tsp vanilla
1/4 tsp salt
1/4 cup butter (not butter substitute)
Combine milk and sugar in a sauce pan. Bring to a rolling boil, stirring constantly. Boil for 1 minute. Add chocolate and stir until melted. Whisk over medium heat until smooth. Remove from heat. Stir in butter, vanilla, and salt. Pour into a glass jar to store in refrigerator. Serve hot or cold. Reheat to serve by warming jar in hot water. Makes 3 cups.
Author Bio:
Kate Brauning grew up in rural Missouri and fell in love with young adult books in college. She now works in publishing and pursues her lifelong dream of telling
stories she'd want to read. This is her first novel. Visit her online at
www.katebrauning.com
or on Twitter at
@KateBrauning
.