Thursday, January 15, 2015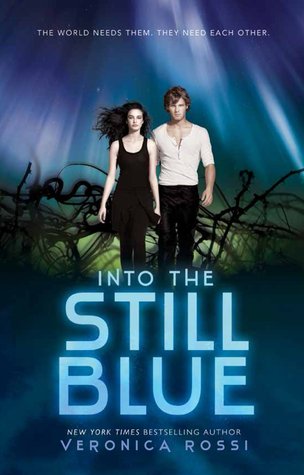 Title:
Into the Still Blue
Author: Veronica Rossi
Pages: 392
Publisher: Harper Teen
Release Date: January 28, 2014
Format: Audio
Rating: 4 Cows
Goodreads Description:
The race to the Still Blue has re
ached a stalemate. Aria and Perry are determined to find this last safe haven from the Aether storms before Sable and Hess do—and they are just as determined to stay together.

Within the confines of a cave they're using as a makeshift refuge, they struggle to reconcile their people, Dwellers and Outsiders, who are united only in their hatred of their desperate situation. Meanwhile, time is running out to rescue Cinder, who was abducted by Hess and Sable for his unique abilities. Then Roar arrives in a grief-stricken fury, endangering all with his need for revenge.

Out of options, Perry and Aria assemble an unlikely team for an impossible rescue mission. Cinder isn't just the key to unlocking the Still Blue and their only hope for survival--he's also their friend. And in a dying world, the bonds between people are what matter most.

In this final book in her earth-shattering Under the Never Sky trilogy, Veronica Rossi raises the stakes to their absolute limit and brings her epic love story to an unforgettable close.
I have some mixed feelings about Into the Still Blue. I loved the action and excitement. There never was a dull moment but at the same time I felt that some of the action was just being repeated again and again. Trust the enemy because there are no other options, be betrayed by said enemy. However, for the most part, I enjoyed the final installment in this series.
Roar is going through a lot in this book and is either drunk, angry or both throughout the first half or so. It's understandable for what he's been through and my heart truly breaks for him. He takes out most of his angry at Perry. Eventually, it's Roar's anger and his need for revenge that gets the group in trouble. Still, my love for Roar remains strong!
Perry and Aria are finally able to stop worrying about what other people will think of their relationship and just be together. They realized that hiding their feelings didn't do them any favors in the beginning so this time they are upfront and honest about being together.
I liked that in Into the Still Blue, we see the Dwellers and Outsiders working together. At first, things are rocky but eventually we see them start to understand each other. They were people that had different cultures and life experiences but at the end of the day they were all people and I think at the end they finally see that too.
The only other thing that I didn't really like was the ending. It felt kind of rushed. A lot of things happen at the end and there are a lot of things that I don't think got the amount of page space it should have. There was one person in particular that I felt the characters and myself needed a little more closure with. I guess in a way they do give that character a good farewell but I just wanted something more. Obviously, it's hard for me to go into detail without giving away too much plot.

Under the Never Sky series is a good solid series. While it's not my favorite series, I still enjoyed it. I plan to read more books by Veronica Rossi in the future and I can't wait to see what she comes up with next.