Friday, October 31, 2014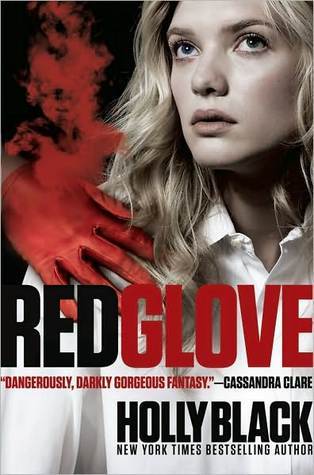 Title: Red Glove
Pages: 325
Release Date: April 5, 2011
Format: Hardcover
Publisher: McElderry Books
Rating: 4 Cows
The cons get craftier and the stakes rise ever higher in the riveting sequel to White Cat—now in paperback!

After rescuing his brothers from Zacharov's retribution, Cassel is trying to reestablish some kind of normalcy in his life.

That was never going to be easy for someone from a worker family that's tied to one of the big crime families—and whose mother's cons get more reckless by the day. But Cassel is coming to terms with what it means to be a worker, and he's figuring out how to have friends.

Except normal doesn't last very long. Soon Cassel is being courted by both sides of the law and is forced to confront his past—a past he remembers only in scattered fragments, and one that could destroy his family and his future. Cassel will have to decide whose side he wants to be on, because neutrality is not an option. And then he will have to pull off his biggest con ever to survive….
Red Glove is the perfect Halloween read. It's chock-full of suspense, creepy houses, and magic all rolled into one! This is the sequel to White Cat, which I recently posted a review on, so if you haven't read White Cat yet be warned. There will be some spoilers in this review for that book.
That being said, let's move on to why I loved this book so much! For starters, the family's been reunited and Cassel's mom is out of jail, giving us a first glimpse into her and Cassel's relationship. Despite his mom being in jail for a majority of White Cat, there were so many references to Cassel's childhood growing up and the impact his mom had on him, that I wanted her to make an appearance sooner. She's exactly how I pictured her to be, from the memories Cassel recalls in both White Cat and Red Glove of her. What I didn't expect was Cassel to let her back into his life so easily in Red Glove. It's a show of Cassel's character though that he does this, because it isn't the first time he has stood by his family when they didn't deserve it. Ultimately this leads to a big part in the book later on that I won't give away, but that you definitely want to read through for! Character development is a big aspect of Red Glove, and I loved that we got to see Cassel figure things out for himself for a change, instead of being guided by his brothers and told what to do all the time.
Another thing I really liked about Red Glove was HEX, because it really gave the reader a good look at the events taking place in the outside world, and showed how the rest of society was dealing with the whole workers and non-workers controversy. I don't know if this is what Holly Black was going for when she wrote the series, but the idea of workers and non-workers coexisting in society seemed to parallel segregation and the Civil Rights movement. For me, this helped me connect with the series that much more, because it felt more realistic.
What stopped me from giving Red Glove 5 Cows as opposed to 4 is the ending. I understand endings aren't meant to be perfect, and I know Holly Black is one of those writers who doesn't believe in the fairy tale ending and has mentioned that in countless interviews, but I still hated it. There's not much I can add to this without giving it away, but I will say this: I was really pulling for one of the main characters, and the ending killed that dream for me. Said character turned out to be a big disappointment!
All in all, I wish there was another book in this series, or even a spin-off series, that takes place in the Curse Worker's world, because I really loved the world building Holly Black did in White Cat and Red Glove. It had a shadowhunters feel to it, and I feel like Holly could have expanded this series into something much bigger and similar to what Cassandra Clare did with Mortal Instruments. Who know, maybe another one is in the works? Until then, I'll have my fingers crossed!
Emily