Monday, July 7, 2014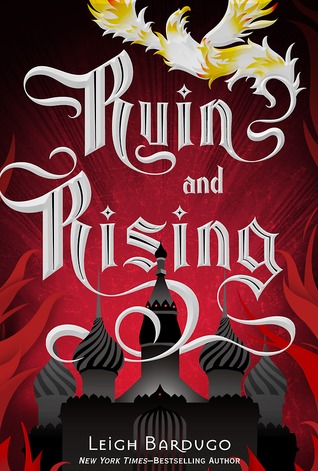 Title: Ruin and Rising
Author: Leigh Bardugo
Pages: 432
Format: Audio
Release Date: June 17, 2014
Publisher: Henry and Holt Co.
Rating: 4 Cows
Goodreads Description:
The capital has fallen.

The Darkling rules Ravka from his shadow throne.

Now the nation's fate rests with a broken Sun Summoner, a disgraced tracker, and the shattered remnants of a once-great magical army.

Deep in an ancient network of tunnels and caverns, a weakened Alina must submit to the dubious protection of the Apparat and the zealots who worship her as a Saint. Yet her plans lie elsewhere, with the hunt for the elusive firebird and the hope that an outlaw prince still survives.

Alina will have to forge new alliances and put aside old rivalries as she and Mal race to find the last of Morozova's amplifiers. But as she begins to unravel the Darkling's secrets, she reveals a past that will forever alter her understanding of the bond they share and the power she wields. The firebird is the one thing that stands between Ravka and destruction—and claiming it could cost Alina the very future she's fighting for.
Ruin and Rising was one of my most anticipated reads of 2014. I couldn't wait to see how everything turned out in this fantastic series. Overall, I would say that I am pleased with the conclusion of the series but I didn't love it quite as I had hoped I would. I'm not sure if it was a case of too high expectations or if there were just some things I didn't care for.
I still love Bardugo's writing style. I love the way her words flow and there is always this fairy tale feel to the way the book is written. I especially love the before and after parts. I think they are simply fantastic!
As for the characters, Mal grew on me a little but Nikolai and the Darkling were still both much more interesting characters to me. Nikolai is my favorite character of the series and I loved every scene he was in and was dying to see more of him. Alina continued to grow as a character and really came into her own. I loved her relationship with Nikolai and the connection she had with the Darkling.
The plot was excellent. It was fast paced and there was continuous action. I was curious as to how the plot would play out and I must say that there were quite a few surprises for me in Ruin and Rising. Bardugo answers a lot of questions in this book and we are finally able to fully understand certain elements related to the characters and the plot.
Now, for the things I didn't like. I can't go too much into what I didn't like without spoilers but I'm going to try. I guess the main things I didn't like had to do with the ending. Like I said, I was curious as to how things would play out and the way they did completely surprised me. I didn't like how things ended for several of the characters. Honestly, that's all I can say without spoil anything.
In the end, I was waiting for that WOW! moment which never quite came. The way several of the characters ended up left me feeling somewhat empty and wishing for a different outcome on their behalf. The plot and writing were once again excellent. Despite my issues with the ending, I still highly recommend this series!