Monday, June 2, 2014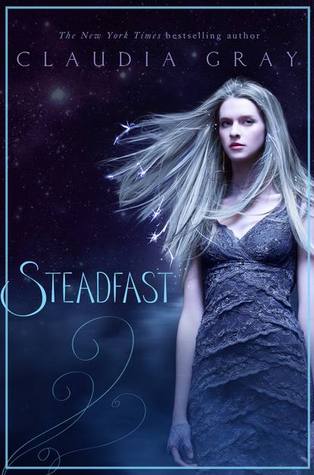 Title: Steadfast
Author: Claudia Gray
Release Date: March 4, 2014
Rating: 5 Cows
Goodreads Description:
Nadia, Mateo, and Verlaine have saved Captive's Sound from the dark Sorceress Elizabeth...or so they thought. Despite their best efforts, a crack opened and a new, greater evil seeped through. With Mateo as her Steadfast, Nadia's magic is magnified and she is more powerful than ever. But there is still so much she doesn't know about the craft, leaving her open and vulnerable to a darker magic...which has begun to call Nadia's name.
I'm not sure why it has taken me so long to write and post the review for Steadfast. I think I somehow just overlooked it and forgot that I hadn't written a review for it. (Bad Ashley!) I had the pleasure of meeting Claudia Gray a couple of weeks ago at RT and she was super nice. I didn't talk to her too long but she did talk with me a little about her new book, A Thousand Pieces of You. It sounds so good and I can't wait for it! Anyways, back to Steadfast and how much I loved that book!!
Steadfast takes place shortly after Spellcaster ended. Steadfast had me hooked from the very beginning. It's fast paced and full of action, suspense, and intrigue. I loved how all of the action and how everything played out.
Nadia continues to be a great character. She is finally getting some confidence in herself but soon realizes that she still isn't as good as she needs to be. The thing I loved about Nadia in Steadfast is that she knows she isn't quite good enough to stop what's happening but she tries anyway. She knows her skills aren't where they need to be but she tries to use her brian to compensate for what she lacks in skills. The ending was a bit shocking and I'm not hundred percent sure on how I feel about what it says about Nadia's character and where she goes from here but it definitely was one heck of an ending.
Verlain is still my favorite character in this series. I just adore her. I love her personality and her ability to care for her friends and others. I hate that she continues to have crappy things happen to her but it makes me love her more that she doesn't let it change her for the worst.
The plot of this novel is excellent, even better than the first. There were a lot of twists and turns and loved them all. Claudia Gray definitely kept me on the edge of my seat with this one.
I listened to Steadfast on audio as well and again Khristine Hvam does an exellent job. I love her voice and the way she brings the story to life.
Steadfast is another homerun for Claudia Gray. I can't wait to see how this story ends! Based on the two previous books, I'm sure it is going to be amazing!