Thursday, June 19, 2014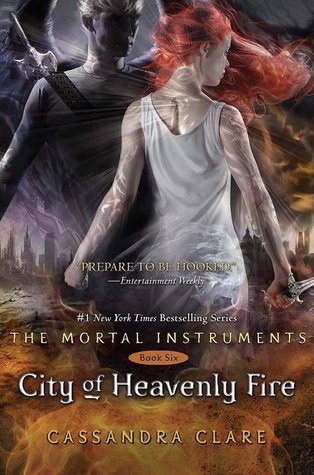 Title: City of Heavenly Fire
Author: Cassandra Clare
Pages: 725
Format: Hardcover
Release Date: May 27, 2014
Publisher: Simon and Schuster
Rating: 4 Cows
Goodreads Description:
In this dazzling and long-awaited conclusion to the acclaimed Mortal Instruments series, Clary and her friends fight the greatest evil they have ever faced: Clary's own brother.

Sebastian Morgenstern is on the move, systematically turning Shadowhunter against Shadowhunter. Bearing the Infernal Cup, he transforms Shadowhunters into creatures out of nightmare, tearing apart families and lovers as the ranks of his Endarkened army swell.

The embattled Shadowhunters withdraw to Idris - but not even the famed demon towers of Alicante can keep Sebastian at bay. And with the Nephilim trapped in Idris, who will guard the world against demons?

When one of the greatest betrayals the Nephilim have ever known is revealed, Clary, Jace, Isabelle, Simon, and Alec must flee - even if their journey takes them deep into the demon realms, where no Shadowhunter has set foot before, and from which no human being has ever returned...

Love will be sacrificed and lives lost in the terrible battle for the fate of the word in the thrilling final installment of the classic urban fantasy series The Mortal Instruments!
I have some mixed feelings about City of Heavenly Fire. The book was interesting and held my interest. I was constantly wondering how everything would turn. But I did feel that there was a lot squeezed into this book that wasn't exactly necessary. Clare managed to tie all three of her series together in City of Heavenly Fire and while I did enjoy seeing some characters from The Infernal Devices and learning about the characters in the upcoming series, I feel that it was just too much.
The main problem I have is that I feel that a lot of the scenes with Emma and Julian were forced. They could have been any Shadowhunters and been mentioned in few details, only when directly necessary to the plot but instead Clare forces Emma and Julian into the book. It seems to me she was simply doing it to get readers anxious about her new series which is in fact a good business decision but I think it does take something away from the story instead of adding to it. Tessa and Jem I didn't mind quite as much but they weren't in there as much to me.
I liked the narrators for this audiobook. Both managed to bring the story to life and add to the listening experience. The only compliant I have was that I thought there should have been more of a pattern of who was reading what and when. Maybe there was one and I just didn't pick up on it but I don't know.
I loved all the character relationships and seeing how they developed and changed in the final installment. All of our main characters's relationships are tested in some way and it was interesting to see how they all handled the challenges before them.
I can't remember how many notable deaths I had heard there were going to be in City of Heavenly Fire but I do remember thinking there was a lot. However, after finishing the book I think that was played up just a little. I didn't think there were that truly, notable deaths.
City of Heavenly Fire didn't break my heart like I was expecting it to. I actually didn't even cry, though there is one part that almost got me. I guess I was expecting something more along the lines of Clockwork Princess that completely shattered my heart (and I still haven't recovered from that one). I guess it would have been difficult to top that one.
City of Heavenly Fire was a great conclusion to the series. While there were somethings that I would have liked to have been done differently, I still enjoyed the book and was pleased with the ending. I will be reading the next series because I really do love the Shadowhunter world!