Monday, April 30, 2012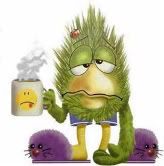 Monday Pick-Me-Up is a weekly post intended to get everyone over their Monday Blues by sharing quotes I thought were funny in the books I read the previous week.
So I am a month behind on the Soul Screamers Reading Challenge. I started reading My Soul to Keep before my trip to Chicago but I didn't read much on my trip and I ended up starting another book before getting back to it. I'm almost done now and things have really picked up. There are also some really funny parts in there too, which is why I'm featuring it in this week's pick-me-up!
"I got swirling eyes and the capacity to shatter windows with my bare voice. Tod got teleportation and invisibility. The supernatural world is so far from fair."


"Was I wearing my 'I'm done with my virginity, please get rid of it for me' T-shirt?"


"Damn it, Tod!" He glared in the reaper's general direction. "Do not sneak up on me in my own house--I don't care how dead you are! Show yourself or get out."

Harmony and I shared a small smile, but my father didn't notice.

The reaper shrugged and grinned at me, then blinked out of the chair and onto the carpet at my father's back, now fully corporeal. "Fine," he said, inches from my dad's ear, and my father nearly jumped out of his shirt. "Your house, your rules."

My dad spun around, his flush deepening until I thought his face would explode. "I changed my mind. Get out!"