Monday, February 20, 2012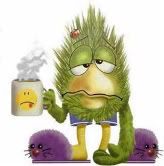 Monday Pick-Me-Up is a weekly post intended to get everyone over their Monday Blues by sharing quotes I thought were funny in the books I read the previous week.
I just started The Dark Elite series by Chloe Neill. I'm a HUGE fan of her Chicagoland vampires series so I fnally decided to give her YA series a try. I'm about halfway through Firespell and I'm enjoying it so far. Here's a couple of quotes I found funny.
"Lily," Mom said, "we need to talk."
I don't think I'm ruining the surprise by pointing out that nothing good happens when someone starts a speech like that."
"Have you ever had one of those days where you give up on being really clean, and settle for being largely clean? Where you don't have time for the entire scrubbing and exfoliating regime, so you settle for the basics? Where brushing your teeth becomes the most rigorous part of your cleaning ritual? Yeah, welcome to Monday morning at St. Sophia's School for (Slightly Grimy) Girls."
Happy Monday Everyone!!