Monday, February 13, 2012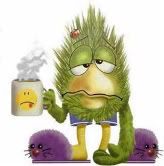 Monday Pick-Me-Up is a weekly post intended to get everyone over their Monday Blues by sharing quotes I thought were funny in the books I read the previous week.
This week's quote comes from the Soul Screamers: My Soul to Take. I just started this series as part of the readathon hosted by Fiktshun. So far I am really enjoying this series. If you aren't participating and would like to you should head on over to her blog and sign-up, there is still time!
Hope your Monday is off to a good start! If not, hopefully, this will help! Enjoy!
"Nash Hudson. Holy crap. I almost looked down to see if ice had anchored my feet to the floor, since hell had surely frozen over. Somehow I'd stepped off the dance floor and into some weird warp zone where irises swam with color and Nash Hudson smiled at me, and me alone."
"His name's Nash."
Aunt Val took a butter knife from the silverware drawer. "What year is he?"
I groaned inwardly. "Senior." ...here we go ...
Her smile was a little too enthusiastic. "Well that's wonderful!"
Of course, what she really meant was "Rise from the shadows, social leper, and walk in the bright light of acceptance!"
"So what does Tod look like? Whitewashed skeleton skulking around in a black cape and hood? Carrying a scythe? 'Cause I'm thinking that would cause mass panic in the hospital." ..... "Do you chase after a funeral processions in a long, dirty dress, hair trailing behind you in the wind? I shot him a mock frown. "Have you been following me again?"