Monday, February 6, 2012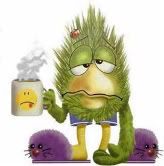 Monday Pick-Me-Up is a weekly post intended to get everyone over their Monday Blues by sharing quotes I thought were funny in the books I read the previous week.
This week's quote comes from Looking for Alaska by John Green. Hope your Monday is off to a good start! If not, hopefully, this will help! Enjoy!
"It's not because I want to make out with her."
Hold on." He grabbed a pencil and scrawled excitedly at the paper as if he'd just made a mathematical breakthrough and then looked back up at me. "I just did some calculations, and I've been able to determine that you're full of shit."
"The Colonel led all the cheers.
Cornbread!" he screamed.
CHICKEN!" the crowd responded.
Rice!"
PEAS!"
And then, all together: "WE GOT HIGHER SATs."
Hip Hip Hip Hooray!" the Colonel cried.
YOU'LL BE WORKIN' FOR US SOMEDAY!"