Monday, January 16, 2012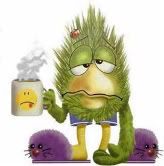 Monday Pick-Me-Up is a weekly post intended to get everyone over their Monday Blues by sharing quotes I thought were funny in the books I read the previous week.
This week's quotes come from Ten Things We Did and Probably Shouldn't Have. I loved this book and found it hilarious. Review will be up later this week, as I am behind on posting reviews. Enjoy!
"I bolted awake. A siren.
The police were outside my house. Ready to arrest me for underage partying, excessive flirting, and an overcrowded hot tub.
My brain turned on. No, not the cops. Just my phone—my dad's ringtone.
I rummaged around the futon. No phone. Instead I felt a leg. A guy's leg. A guy's leg flung over my ankle. A guy's leg that did not belong to my boyfriend.
Oh God. Oh God. What did I do?
WEEEooooooWEEEEoooooWEEEoooo!"

pg 1 (yep that's how this story starts!)
"How much wood could a woodchuck chuck if a woodchuck could chuck chlamydia?"

(sorry don't have the page number on this one I read it on my kindle, it's closer to the end though)