Monday, November 14, 2011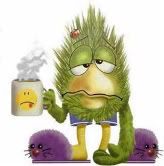 Monday Pick-Me-Up is a weekly post intended to get everyone over their Monday Blues by sharing quotes I thought were funny in the books I read the previous week.
This weekend I read The Iron Knight and as always Puck can be counted on to provide some comic relief during times of peril. Both of the below quotes are from Puck. Enjoy and Happy Monday!
"Yes," I said, repressing a sigh. "I heard you. I think the jabberwocks on the other side of the swamp heard you."
"Oh, good! Maybe if we fight a couple you'll start paying attention to me!" Puck matched my glare before gesturing around at the swamp. "This is crazy," he exclaimed. "How do we even know he's here? The Bone Marsh isn't exactly on my list of favorite vacation getaways, prince. You sure your contact knew what he was talking about? If this turns out to be another false lead I might turn that phouka into a pair of gloves."
"Working for Mab now, are you, Wolfman?" he smirked. "Like a good little attack dog? Will you also roll over and beg if she asks?"