Monday, October 24, 2011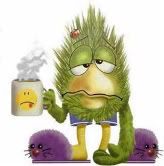 Monday Pick-Me-Up is a weekly post intended to get everyone over their Monday Blues by sharing quotes I thought were funny in the books I read the previous week.
This week I'm doing this a little differently. I have quotes from Vampire Academy and The Mortal Instrutments, even though I've read both of them a while back. If you haven't read either of these series you should do so immediately! They are great!
"My muscles informed me they did not want to go through any more exercise today. So I suggest that maybe he should let me off this time. He laughed, and I'm pretty sure it was at me...not with me.
"Why is that funny?"
"Oh," he said, his smile dropping. "You were serious."
"Of course I was! Look, I've technically been awake for two days. Why do we have to start this training now? Let me go to bed." I whined. "It's just one hour."

"How do you feel right now?"
"I hurt like hell."
"You'll feel worse tomorrow."
"So?"
"So, better get a jump on it while you still feel...not as bad."
"What kind of logic is that?" I retorted."
-Vampire Academy
"I figured all your classes were stuff like Slaughter 101 and Beheading for Beginners."
Jace flipped a page. "Very funny, Fray."