Monday, October 17, 2011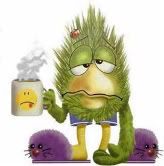 Monday Pick-Me-Up is a weekly post intended to get everyone over their Monday Blues by sharing quotes I thought were funny in the books I read the previous week.
I just finished Eighth Grade Bites by Heather Brewer last night so that's where my quotes this week are coming from. I should have my review of Eighth Grade Bites up tomorrow.
"Nothing could convince Aunt Nelly to let Vlad stay home for the duration of the school year, which just goes to prove that parents and guardians don't care if they're sending you to face bloodthirsty monsters, so long as you get a B in English."
"Because teachers, no matter how kind, no matter how friendly, are sadistic and evil to the core."
"Whoever had decided that school should start so early in the morning and last all day long needed to be hunted down and forced to watch hours of educational televison without the aid of caffine."