Monday, October 10, 2011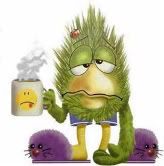 Monday Pick-Me-Up is a weekly post intended to get everyone over their Monday Blues by sharing quotes I thought were funny in the books I read the previous week.

Okay, I'm back. Hopefully, for good this time! This week's Monday Pick-Me-Up comes from Anna and the French Kiss by Stephenie Perkins. Enjoy!
"I mean, really. Who sends their kid to boarding school? It's so Hogwarts. Only mine doesn't have cute boy wizards or magic candy or flying lessons."
"Soap?"
"School of America in Paris" he explains. "SOAP".
Nice. My father sent me here to be cleansed."
"Most people in Atlanta don't have an accent. It's pretty urban. A lot of people speak gangsta, though," I add jokingly.
"Fo' shiz," he replies in his polite English accent.
I spurt orangey-red soup across the table. St. Clair gives a surprised ha-HA kind of laugh, and I'm laughing too, the painful kind like abdominal crunches. He hands me a napkin to wipe my chin. "Fo'. Shiz." He repeats it solemnly.
Cough cough. "Please don't ever stop saying that. It's too-" I gasp. "Much."
"You oughtn't to have said that. Now I shall have to save it for special occasions."
"My birthday is in February." Cough choke wheeze. "Please don't forget."