Monday, September 12, 2011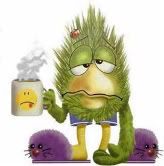 Monday Pick-Me-Up is a weekly post intended to get everyone over their Monday Blues by sharing quotes I thought were funny in the books I read the previous week.

Sorry, it's so late. I am definitely feeling a little sluggish today. I finished Paranormalcy by Kiersten White last night and it's hilarious. Here's a couple of my favorites.
"Yes, I have a driver's license."

I leaned back against the wall, sighing. "Man, that must be so cool."

"It ranks right up there with lockers. In fact, sometimes I put my license inside my locker, and it's so cool I worry that the whole thing might explode with the sheer coolness of it all."
"I can't see through clothes or anything. Just glamour skin. Except I can see through all of you, since your clothes aren't real." I stopped, horrified. "I mean, I don't look—It's hard to see you, and I like looking at your real face, but I don't try to see anything, because—Oh gosh, this sounds terrible."
He had a funny look on his face, like he wasn't sure what to think. "Huh. That's never been an issue before. Maybe next time you could bring me some shorts."
What's your Monday Pick-Me-Up? Leave me a comment letting me know. I need all the laughs I can get!