Monday, August 29, 2011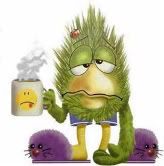 Monday Pick-Me-Up is a weekly post intended to get everyone over their Monday Blues by sharing quotes I thought were funny in the books I read the previous week. 
Currently, I am reading
Lament
by Maggie St
iefvater
so this week's quote is from there. I am almost done with it and should have a review up soon. Hopefully, you will enjoy!
"When did you get so smart?"
He tapped his forehead. "Brain transplant. They put in a whale's. I'm passing all my classes with my eyes closed now, but I just can't get over this craving for krill." He shrugged. "And I feel sorry for the whale that got my brain. Probably swimming around Florida now trying to catch glimpses of girls in bikinis."
What's your Monday Pick-Me-Up? Leave me a comment letting me know. I need all the laughs I can get!
Also, don't forget to check back tomorrow for my review of Fateful (which I loved, by the way) and a Claudia Gray related giveaway!