Monday, August 22, 2011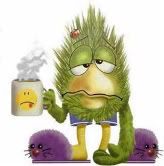 Monday Pick-Me-Up is a weekly post intended to get everyone over their Monday Blues by sharing quotes I thought were funny in the books I read the previous week. 
Last week, I read Jessica's Guide to Dating on the Dark Side by Beth Fantaskey, Entice by Carrie Jones, and some of Harry Potter and the Half Blood Prince. I have pulled a quote from each of the books that I thought were really funny. Hopefully, you will too. Enjoy!
"Sir- I got a Ministry of Magic leaflet by owl, about security measures we should all take against the Death Eaters…."
"Yes, I received one myself," said Dumbledore, still smiling. "Did you find it useful?"
"No, I thought not. You have not asked me, for instance, what is my favorite flavor of jam, to check that I am indeed Professor Dumbledore and not an imposter."
"I didn't…" Harry began not entirely sure whether he was being reprimanded or not.
"For future reference Harry, it is raspberry…although of course,

if I were a Death Eater, I would have been sure to research my own jam preferences before impersonating myself."
Harry Potter and the Half Blood Prince pg 62-62.
As you know, I have always been curious about our immortality…how it will feel to live on and on through time (assuming one avoids the stake, as I intend). I need speculate no longer, I have sampled eternity in Miss Campbell's fifth period "social studies" class. Three days on the concept of "manifest destiny," Vasile. THREE DAYS. I yearned to stand up, rip her lecture notes from her pallid hands, and scream, "Yes, America expanded westward! Is that not logical, given that Europeans settled on the eastern shore?" What else were they to do? Advance vainly into the sea?
Jessica's Guide to Dating on the Dark Side pg 48
He unbuckles his seat belt. The flight attendant scoots right over. "Sir, I need you to sit down."
He stares at her like she's asked him to eat a truckful of Twinkies. His frustrations slams into me like a fist. It's not intentional. I just feel it.
"The captain has turned the seat belt sign back on," she insists.
We hit some turbulence just as she says, "Sir, I must—"
"He has diarrhea!" I interrupt.
Astley gasps and his whole face and even the tips of his ears redden. I feel a little bad about it, but it's so going to work and, seriously, it was the thing I could think of.
Entice pg 65
What's your Monday Pick-Me-Up? Leave me a comment letting me know. I need all the laughs I can get!
Also, if you liked the quote from Jessica's Guide to Dating on the Dark Side don't forget to enter my giveaway for it here!