Monday, August 15, 2011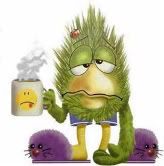 I've decided to start a weekly post entitled Monday Pick-Me-Up. We all HATE Mondays (or at least I do) so I thought it would be a good idea to come up with a weekly post intended to help everyone get over their Monday blues.
I intended to start this last Monday but I had trouble coming up with something that would make everyone feel better. On Tuesday, (that's me always a day late) I came up with the idea to post a funny passage from whatever book I'm currently reading.
Right now, I'm reading Harry Potter (yes, in this instance I realize I'm a decade behind instead of day, see my previous post here). I just finished Harry Potter and the Order of Phoenix so my funny passages are going to come from that book.
Draco: "You see, I, unlike you, have been made a prefect, which means that I, unlike you, have the power to hand out punishments".
"Yeah," said Harry, "but you, unlike me, are a git."
"Don't put your wand there , boy!" roared Moody. "What if it ignited? Better wizards than you have lost buttocks, you know!"
"Who d'you know who's lost a buttock?" the violet-haired woman asked Mad-Eye interestedly.
"Never you mind, you just keep your wand out of your back pocket!" growled Mad-Eye. "Elementary wand safety, nobody bothers about it anymore...." He stumped off toward the kitchen. "And I saw that," he added irritably, as the woman rolled her eyes at the ceiling.
What's your Monday Pick-Me-Up? Leave me a comment letting me know. I need all the laughs I can get!